Decorating Walls with Flooring
See More about Decorating Walls with Flooring >>>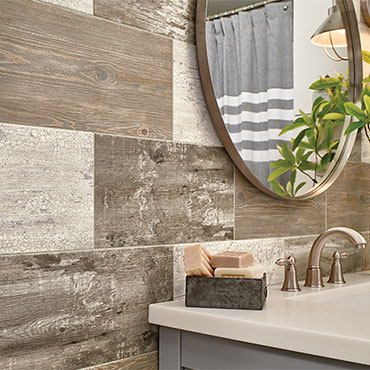 Wood on the walls was a popular mid-century decorating trend, and, like many looks of that time, it's recently re-emerged, new and improved. Discover how you can transform a room from top to bottom with the enduring beauty and durability of Armstrong products — on your walls.
Today's style-minded homeowners are approaching flooring from a whole new angle — using it to create accent walls and artistic focal points that reflect their unique style and bring distinctive character to a space.
Whatever one-of-a-kind look you imagine for your home, Armstrong Flooring can help you achieve it. We've made some of our most on-trend and durable flooring options adaptable for wall installations. They're easy to install, easy to care for and easy to love.
Let's take a closer look at the variety of products you can use on the walls:
Engineered Tile
Whether you are seeking the look of wood, natural stone, or slate, try featuring our Alterna engineered tile products on your wall. It can be used with or without grout as a decorative backsplash, accent wall or other focal point. With a wide range of designs and multiple options for layout and patterns, you'll find endless ways to express your vision.


Traditional and modern styles. From the classic elegance of travertine or marble to the modern sleekness of concrete or linen and the rustic charm of wood planks, there's a look for every decorating style.


 Durable engineered construction. Alterna looks and feels like natural stone because it's constructed from 75% stone. It's water, scratch and stain resistant — and unlike ceramic and natural stone, isn't susceptible to cracking.


 Install anywhere. Kitchens, bathrooms, basements. The only places we don't recommend are shower walls, fireplace surrounds or any wall application that exposes it to continuous saturation or temperatures above 300°F.


Easy installation. Alterna is faster, easier, and cleaner to install than traditional tile. Adhesive and optional grout come pre-mixed and installation can be done in a day with no long drying times between steps. Use an appropriate high-quality wall adhesive and follow instructions for how to install engineered tile flooring on walls.


Matching trim. Complete the look with trim pieces, digitally matched to go with any flooring you choose.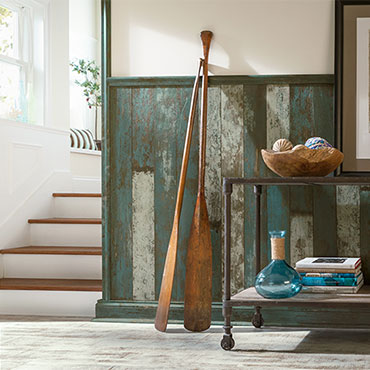 Wood-Look Laminate
Laminate on your walls can be a great decorating option for practical budgets or if you're going for a specific wood look featured in our premium laminate collections. Create a unique visual statement with a full wood wall, recessed panel, wainscoting or other accent.


Groundbreaking style. These products showcase gorgeous, crystal clear visuals that mimic unexpected materials like rustic barn wood, weathered concrete and reclaimed metal.


Durable construction. Laminate flooring on walls is just as stress-free to maintain as laminate on the floor. Each features our VisionGuard wear layer, a hardened surface that helps protect against scratches, scrapes and fading — and makes walls easy to clean.


Install anywhere. Add a unique accent to any room, on any level of your home — high-moisture areas included!


Easy installation. Our simple Lock&Fold® method is easy to install and can be placed over existing drywall or paneling with no mess or hassle.


Matching trim. Give your wall treatment a professional and


---
NOTE:
Breslin's Floor Covering does not carry every style of product. Check with us first about a particular product or to see if your product choice is available for special order.
---

---
Armstrong Engineered Tile
Alterna luxury vinyl tile offers the timeless elegance of slate, marble, and travertine in a floor that's easy to live with. While Alterna may look like stone, it feels warm and comfortable to your feet, and absorbs sound for a quieter home. Our new collection of urban-inspired designs features weathered metal, concrete-infused motifs, and linen and timber textures.
---
Profile
|
Website
|
Install
|
Clean
|
Green